Head of department:
Khasanov Doston Turayevich
Hours:
Monday

,

Wednesday, Friday

(10:00 - 12:00)
Telephone:
(0 371) 238-64-19
According to the order of TUITrector No. 550-01 as of June 2008, two departments - "Telematics Systems" and "Management of telecommunications networks" have been jointed and rearranged to become "Data communications networks andsystems".
The department of "Telematics Systems" was separated from the department of Telephone communicationin 1958 and named first asTelegraph communication, during 1967 till 1996 -Transmission of messages,and Discrete and telegraph communications and thenafter Telematics systems department. In 1958 the research fellow of the Central Scientific-Research Institute in Moscow, PhD S.B.Bazilevich taught the lectures on the basics of telegraphy'course, the laboratory sessions assisted by I.B.Zorin. During 1958-1960 years, the department was headed by PhD E.D.Milovidov. During this period, a number of leading specialists were providing lecturers, among them PhD G.A.Emelyanov from Leningrad Electrotechnical Institute of Communications. From the academic year 1960-1961, M.B.Asqarova graduated from the MEICand M.N.Aripov studied at TEIC began working as an assistants of the department. In December 1960, assistant M.N.Aripov was sent to MEICfor postgraduate training.
During 1961-1962 academic year, the department was headed by I.B.Zorin, next year – by A.V.Marin, and during 1963-1964 academic year until 1968, by PhD O.A.Labichev. In1964M.N.Aripovhas successfully defended his PhD thesis, came back as an assistant, and since 1968 until May 2000 he was head of the department.
The scientific research works of the department were mainly devoted to the the development of error-correcting codesfor data protection, control and technical diagnosticsof digital devices; these research resulted as 6 books and over a hundred scientific papers have been published by professor M.N.Aripov. Professor M.N.Aripov supervised the scientific thesis of Sh.Z.Yunusov, M.Z.Yokubova, Z.B.Tukubaev, M.I.Djalilov, E.D.Bichkov. Morethan 200 scientific papers, about 100 methodic and study materials have been published by the academic staff of the department.
Since 1996, the department was renamed as "Telematics Systems". From 1999, the department started teaching for bachelors and masters in the field of telecommunications. From 2001 until March 2005, the Department of Telematics Systems was headed by Associate professor N.B. Usmanova. During 2005 - 2007, Associate professor Y. K. Kamalovworked as the head of the department.
The last decade history of the department relates with the activity M.B.Asqarova, A.V.Smorodin, X.X.Fetlyaeva, X.Q.Qodirxo'jaeva, R.X.Djuraev, O.A.Mileeva, T.Z.Tursunxo'jaeva, S.N.Saxarchuk, Sh.Z.Yunusov, R.M.Rajabov, N.S.Xodjaev, R.Z.Gizatulin, M.I.Djalilov, Yu.K.Kamolov, E.D.Bichkov as a teachers and academic staff; I.A.Fetlyaev F.Z.Faxrutdinov N.X.Xikmatullaev M.M.Zakirovlar has been working as teachers and researchers. In 1976-1986 professor D.A.Abdullaev taught part-time lectures on the subject of discrete transmission of information.
Underthe guidance of professor M.N.Aripov teachers and staff of the department carried out scientific research at thescientific research institutes and manufacturing enterprises of Moscow, Kaluga, Nizhny Novgorod. Scientific research was carried out in two directions: methods to increase the reliability of discrete digital transmission and technical diagnosticsof digital systems.
Conscientious work of department faculty is awarded by the state government: e.g. senior lecturer R.X. Djuraev was awarded 'The excellent level specialist' title in commemoration of7th anniversary of independence in 1998; senior lecturer T.Z. Tursunhodzhaeva – 'The fame of Labor' at the event dedicated to the 50th anniversary of TUIT; N.B.Usmanova – breast medal on the occasion of the 15th anniversary of independence.
During its activity the department have taught more than 1,500 engineers, undergraduate and graduate students. They work not only in the Republic of Uzbekistan, but also abroad.
Department of "Digital technology and management systems" (department of telecommunication networks management) was arranged in 1985 according to the Order of the Ministry of Communications of the USSR in November 28, 1984. For the organization of educational process for the directions"Communications Management Systemsthe teaching staff of "Electrical communication" and "Discrete signals and telegraphy" departmentswere involved for training of specialists. It is known that, by 1980thewide range of electronic systems managed by software program was being implemented widely inthe USSR and abroad. Similarly, the introduction of automatic telephone stations in the territory of Central Asia also began. There was need to open a special department on training of specialists in the new "digital technique, electrical communication, and control systems". At the beginning of this department activity were Rector of TEIC, academician of the Uzbek Academy of science, professor D.A. Abdullaev, professor Son, associate professor Suvorov V.I., associate professor YunusovJ.Yu., associate professor DjalilovM.J., senior lecturers Kurmisheva A.A., Kolesnikov V.A ., assistant Abramova G.I., head of laboratory Aliev B.A.
The first head of this department was professor, academician of the Academy of Science Abdullaev J.A.. Among staff who worked actively at this department within different years were associate professor AmirsaidovU.B., associate professor Levental I.U., associate professor Shestereva N.A., the senior lecturer Kravariti T.A., assistants Mukhamedov A.A., Xashimov B.B., Safiyazov B.J. and others.
Due to the appointment of Abdullaev D.A to the position ofthe Minister of Higher and Secondary Special Education of the Republic of Uzbekistan in February 1992, the department the department was headed by Suvorov V.I.
During 1993- 2004, the department was headed by associate professor Yunusov J.Yu.; Academician Abdullaev D.A. worked as the head of the department during the period 2004 – 2008.
Department had "Communication network theory" , "Electrical Systems Theory and Design", "Database Management Systems", "Telecommunications systems software," "Electrical communication management complexes", "Digital technology and microprocessors," "Fundamentals of computer information systems" to teach bachelor students in 'Digital technology and management systems' specialty; "Management of telecommunications networks", "Internet systems and services" disciplines for master students.
Within 1999-2000 academic year the department started to teach for graduate programs specialties "Digital technique and communication management systems" and "Software of telecommunications systems". Two laboratory classes are arranged for bachelor and master students. The construction of digital techniqueand microprocessors, and software used has been studied so far. Throughout its activity, the department has prepared more than 500 engineers and bachelors in the specialty of "Electrical communication management (control) systems". They work in the Republic of Uzbekistanand in foreign countries as well.
In the 2010-2017 academic years, as the head of the department, Candidate of technical sciences, Associate Prof., U.B.Amirsaidov led.
In the 2017-2019 academic years, as the head of the department, Candidate of technical sciences, Associate Prof., Sh.Yu.Djabbarov led.
In 2019-2022, the department was headed by Ph.D., Associate Prof., H.E.Khujamatov.
Since 2022, PhD, D.T.Hasanov has been working as the head of the department.
5350100
"Telecommunications technologies
​

" (Telecommunications

​

)
5A350101
"Telecommunications Engineering
​

"
Subjects taught at the department:
Bachelor:
Information theory and coding.
Network protocols.
Distributed systems
Masters:
Multimedia Services
Network Security
Modeling and simulation of data transmission networks
Telecommunications networks management
Serviceoriented architecture
Professors and teachers of the department
Abdullayev M.M

- chief of the department

Djabbarov Sh.Yu

- candidate of the technical science, docent

Nishanbayev T.N.

- doctor of technical science professor

Amirsaidov U.B.

-candidate of the technical science, docent

Usmanova N.B.

-candidate of the technical science, docent

Djalilov M.I.

- candidate of texhnical science, docent, part time.

Abdusagatov Q.X.

- candidate of texhnical science, docent, part time.

Djuraev R.X.

- senior teacher

Nurmatova S.B.

- senior teacher

Boltaev J.B.

- senior teacher

Matqurbanov D.M.

- assistent

QodirovA.A.

- assistent

Toshtemirov T Q.

- assistent

Musaxodjayeva I.A.

- assistent

Temirova D.X.

- assistent

Xoshimov J.F.

- assistent

Axmedov N.M.

- trainee-teacher

Abduqayumov B.A.

- trainee-teacher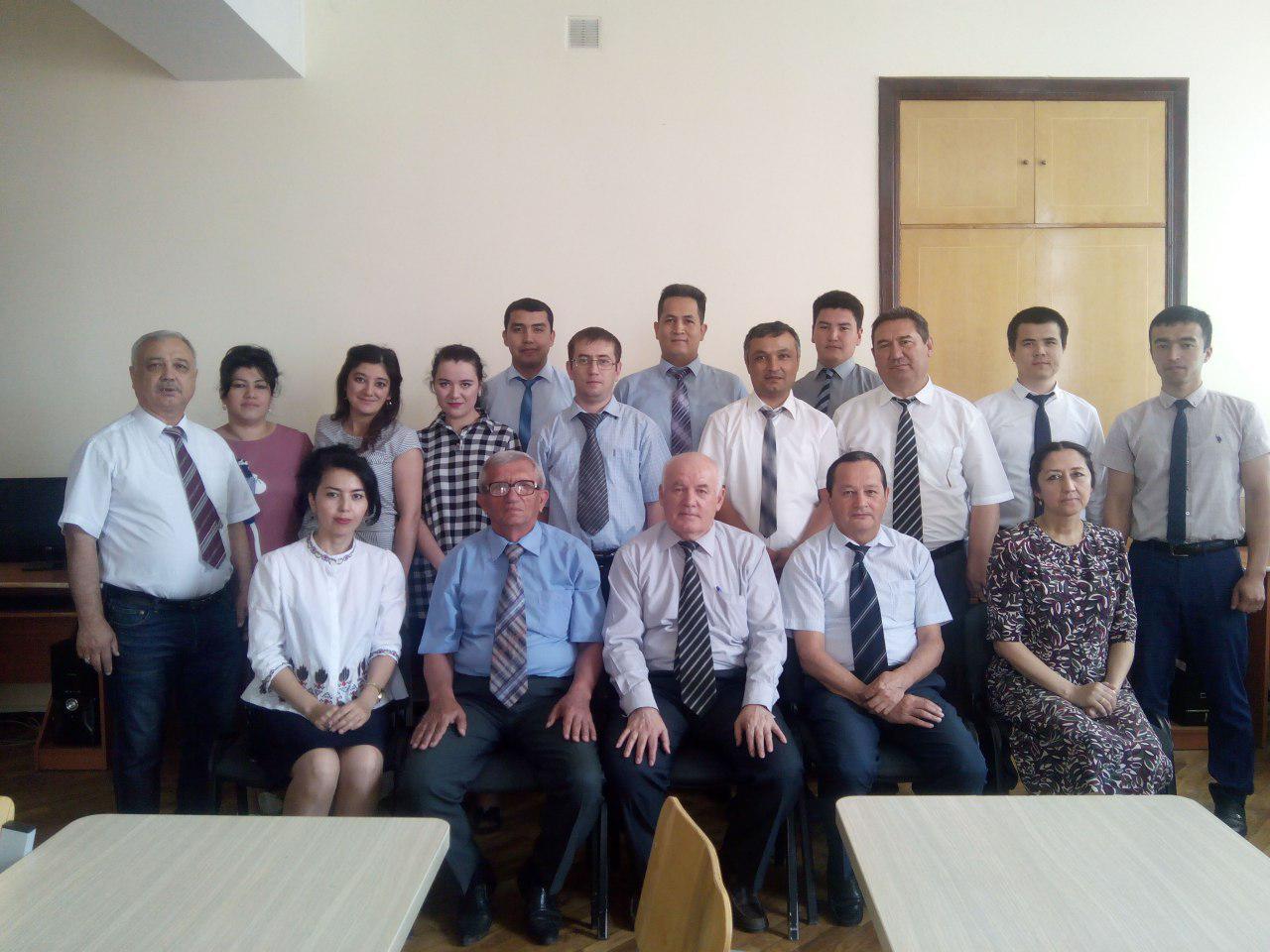 Kafedrada bajarilayotgan davlat va chet el grantlari (fundamental, amaliy, innavatsion va xo'jalik loyixalari) ro'yxati
Razrabotka modeley i metodov raspredeleniya potokov v telekommunikatsionnыx setyax, posuloennыx na osnove platformы IMS

U.B.Amirsaidov

- Loyiha rahbari

Keyingi avlod tarmoqlari resurslarini infokommunikatsion xizmatlarga yo'naltirilgan arxitektura uslublari asosida taqdim etilishining usulini ishlab chiqish). Ilmiy raxbar: professor T.N. Nishonboev.

T.N. Nishanbaev

- Loyiha rahbari

Razrabotka metoda predostavleniya resursov seti sleduyuщego pokoleniya, osnovannogo na metodologii servis-orientirovannoy arxitekturы

T.N. Nishanbaev

- Loyiha rahbari

Modeli i mexanizmы predostavleniya setevыx uslug v infrasulukture oblachnыx vыchisleniy (na primere razvitiya elementov sistemы «Elekulonnoe pravitelstvo»)

N.B.Usmanova

- Loyiha rahbari
Scientific methodical work of the department:
Amirsaidov U.B., Methodical guidelines for the implementation of course project on the subject "Data transmission networks modeling and simulation".
UsmanovaN.B.,Lecture notes on the subject "Management of telecommunications networks".
DjuraevR.X., DjabbarovSh.Yu.,Guidelines for practical work on subject "Network Security".

Nurmatova S.B., Training manual on the subject "Digital technology and microprocessors".
Selected list of publications:
Amirsaidov U.B. Mahmudov S.O.

- Simulation model of backbone network.- Transactions of the international scientific conference "Perspectives for the development of information techologies ITPA 2014".(4-5 Novenber, 2014. Tashkent).p.271-274.

Amirsaidov U.B. Ummatov U.A.

- modeling multiservice access network.- Transactions of the international scientific conference "Perspectives for the development of information techologies ITPA 2014".(4-5 Novenber, 2014. Tashkent).p.274-277.

Amirsaidov U.

- Models and methods for calculating the network characteristics taking into account the fractal nature of traffic. "The Society of Digital Policy & Management", 2014, Korea, p.301-307.

Nishanbaev T.N.

- Ways of applying service-oriented architecture for providing access to infocommunication recources. Perspectives for the development of information technologies, ITPA-2014, 4-5 november, Tashkent 2014.

Nishanbaev T.N.

- Tarasenko E. V. An approach to the problem of optimal traffic distribution im modern telecommunication networks. Perspectives for the development of information technologies, ITPA-2014, 4-5 november, Tashkent 2014.

Nishanbaev T.N.

- Muradova A.A. A. Sistem research of rellability indexes of the modern telecommunication network with distributed structure. Perspectives for the development of information technologies, ITPA-2014, 4-5 november, Tashkent 2014.

Usmanova N. Muhamedov A.

- On defining service level specifications within functionality of telecommunication network. Международная конференция «Perspectives for the development of information technologies, ITPA 2014» Ташкент, 4-5 ноября 2014 г. (40с.)

Usmanova N.

- Analysis of Information Exchange Mechanisms on Enabling Converged Network Services: SCTP Example. International Journal of Ubiquitous Computing and Internationalization, Vol.5, №1, December 2013, pp.1-3. (70с.)

Usmanova N.

- Agent-based modeling of distributed environment: assigning properties to agent. Eighth World Conference on Intelligent Systems for Industrial Automation, Proceedings. WCIS 2014, 25-27 November 2014, Tashkent. (70с.)